Roseville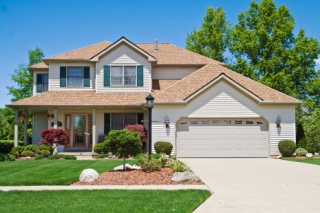 Roseville is a city in Ramsey County, Minnesota, just north of Saint Paul and east of Minneapolis. It is one of two Twin Cities suburbs that are adjacent to both Saint Paul and Minneapolis (the other is Lauderdale). The land comprising Falcon Heights, Lauderdale, and southern Roseville was part of Saint Paul until those towns incorporated in 1948.
Roseville's property taxes are some of the lowest in the Twin Cities, owing in part to the extensive commercially zoned land. Several major shopping centers are in Roseville, including Rosedale Center and the Har Mar Mall. The city's per-capita retail spending is slightly higher than that of Bloomington (home of the Mall of America), and it has the greatest number of restaurants per capita in the Twin Cities.
The first Target store was built in 1962 in Roseville and replaced in 2005 with a SuperTarget; Roseville is also home to the first Barnes & Noble bookstore outside New York City and the first McDonald's and Dairy Queen restaurants in the state of Minnesota. The Dairy Queen is currently on the Preservation Alliance of Minnesota's list of the 10 Most Endangered Historic Places.
Roseville is also home to the John Rose Oval, North America's largest outdoor artificial sheet of ice. The 1995 men's Bandy World Championship and the 2006 women's Bandy World Championship were held here. The fifth-largest board game publisher in the world, Fantasy Flight Games, is based in Roseville. Roseville Visitors Association, the Official Visitors Site for Roseville, Old Dutch Foods, the Minnesota Department of Transportation, the Minnesota Department of Education, and the Minnesota State Lottery are headquartered in Roseville.
Roseville's population was 33,660 at the 2010 census.
From Wikipedia, the free encyclopedia. Information is reliable, but not guaranteed.
Community Links: