St. Paul-Summit Hill and Crocus Hill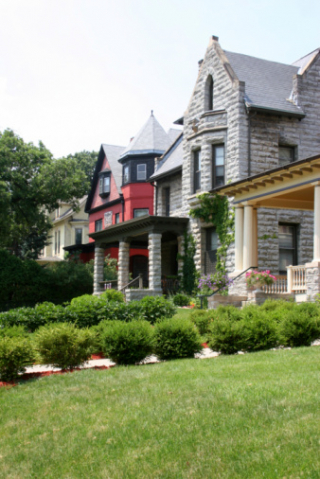 The Summit Hill neighborhood is roughly centered around the section of Summit Avenue between Dale Street and John Ireland Boulevard. "Crocus Hill" is the neighborhood adjacent to Summit Hill, and is bounded on the north by Summit Avenue and on the east by "Grand Hill", the hill formed by Grand Avenue as it descends towards downtown Saint Paul. The other two boundaries are St. Clair Avenue to the south, and Lexington Avenue to the west. These neighborhoods were the traditional home of the city's Robber Barons.
Summit Avenue was originally conceived as a broad, Gilded Age showcase street, and is lined with the mansions named after notable Saint Paul figures, such as railroad tycoon James J. Hill. With its vistas of downtown and the Mississippi River, Summit Avenue is thought to be one of the longest stretches of preserved Victorian mansions in North America. It has been home to artists such as F. Scott Fitzgerald and his wife Zelda, Sinclair Lewis, August Wilson, and currently Garrison Keillor. More notorious residents have included 1930s-era gangsters such as John Dillinger and members of the Barker-Karpis Gang.
From Wikipedia, the free encyclopedia. Information is reliable, but not guaranteed.
Community Links:
St. Paul-How to Use Zip Codes to Search a Specific Neighborhood
Summit Hill and Crocus Hill Zip Codes = 55105, 55102