Overpricing helps sell other, more competively priced homes first:
Your home may be used to demonstrate the good value of other properties. Your objective should be to enter the market in a position that will attract prospects, not drive them away.
Your home may become stale on the market:
Prospects may wonder why it has been on the market so long or if something is wrong with the property, even after you lower the price. You may even have to settle for less than market value. A house takes on a reputation surprisingly fast, so don't wear out your welcome on the market.
You lose a strong negotiating position when your house is on the market a long time, both financially and mentally:
Prospects will not "rush" to make an offer on an overpriced property, and you may feel compelled to accept less when they finally do.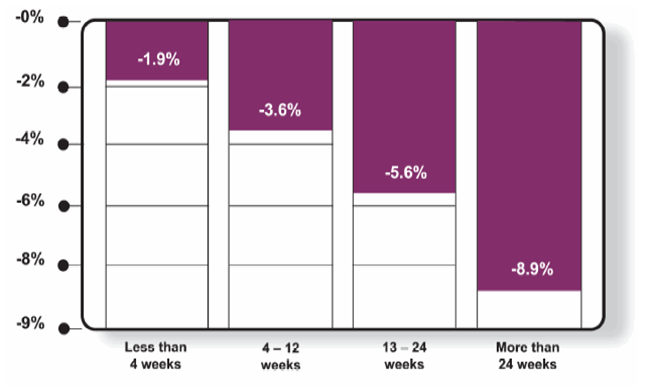 The Effect of Overpricing
This chart highlights the importance of  pricing correctly at market value.
This is the average percentage difference between the Selling and Asking Price           by the length of time the home was on the market.
Put your best foot forward immediately
Establish a competitive asking price
Keep your home in top showing condition
If you do get an offer, the contract may fall through because of appraisal problems:
The lender must justify the price to the market.