Minneapolis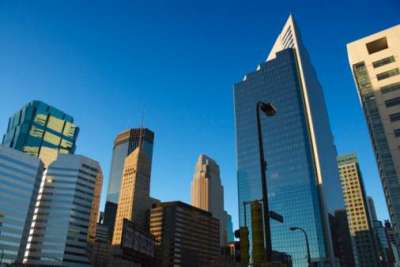 Minneapolis, nicknamed "City of Lakes" and the "Mill City", is the county seat of Hennepin County, the largest city in the state of Minnesota, and the 48th largest in the United States. Its name is attributed to the city's first schoolteacher, who combined mni, a Dakota Sioux word for water, and polis, the Greek word for city.
As of 2011, the estimated population of the city of Minneapolis is 387,753. Minneapolis lies on both banks of the Mississippi River, just north of the river's confluence with the Minnesota River, and adjoins Saint Paul, the state's capital. Known as the Twin Cities, Minneapolis–Saint Paul is the 16th-largest metropolitan area in the U.S., with approximately 3.3 million residents.
The city is abundantly rich in water, with over twenty lakes and wetlands, the Mississippi river, creeks and waterfalls, many connected by parkways in the Chain of Lakes and the Grand Rounds National Scenic Byway. Among cities of similar densities, Minneapolis has the most dedicated parkland. It was once the world's flour milling capital and a hub for timber, and today is the primary business center between Chicago and Seattle, with Minneapolis proper containing the fifth highest concentration of Fortune 500 companies.
Minneapolis has cultural organizations that draw creative people and audiences to the city for theater, visual art, writing, and music. The community's diverse population has a long tradition of charitable support through progressive public social programs and VOLAGs, as well as private and corporate philanthropy.
From Wikipedia, the free encyclopedia. Information is reliable, but not guaranteed.
Search the Minneapolis Neighborhoods
Community Links: