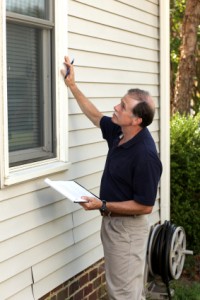 It's easy to make sure the home you've chosen is a smart buy. By having a home inspection, the home's vital systems are checked. A home inspection allows you to purchase your home with confidence. Phil will help you set one up after you have chosen the home you like.  I  recommend the following minimum standards when choosing an inspector:
1. Membership in ASHI (American Society of Home Inspectors) and adherence to its
Standards of Practice and Code of Ethics.
2. Written report at the time of inspection.
Items on your inspection report will include:
FOUNDATIONS, BASEMENTS, AND STRUCTURES
Basement floor and walls, proper drainage and ventilation, evidence of water seepage.
EXTERIOR SIDING, WINDOWS, DOORS
Exterior walls, windows, and doors; porches, decks, and balconies; garage.
ROOF
Roof type and material, condition of gutters and downspouts.
INTERIOR PLUMBING SYSTEM
Hot and cold water system; the waste system and sewage disposal; water pressure and     flow; and hot water equipment.
ELECTRICAL SYSTEM
Type of service, the number of circuits, type of protection, outlet grounding, and the load balance.
CENTRAL HEATING SYSTEM
Energy source, type of cooling equipment, capacity, and distribution.
INTERIOR WALLS, CEILINGS, FLOORS, WINDOWS AND DOORS
Walls, floors, ceilings, stairways, cabinets, and countertops.
ATTIC
Structural, insulation, and ventilation information.
FIREPLACE
Notes about the chimney, damper, and masonry.
GARAGE
Doors, walls, floor, opener.
APPLIANCES
Includes a wide range of built-in and other home appliances, smoke detectors, and
television/cable hookups.
LOT AND LANDSCAPING
Ground slope away from foundation, condition of walks, steps, and driveway.